Ep 195: A Cost-Effective Solution for Restaurant Expansion
publication date:
Jul 9, 2023
|
author/source:
Jaime Oikle with Megan Rosen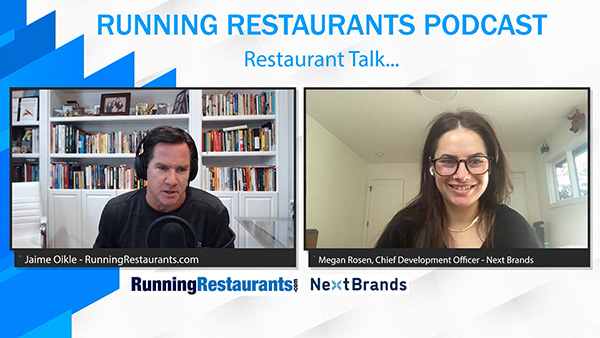 In this podcast episode, I interview Megan Rosen, Chief Development Officer of Next Brands.
While traditional real estate can be economically challenging for restaurant expansion, Next Brands twist on locations and build out is working well by transforming shipping containers into successful quick-serve restaurants.
Highlights from our conversation include...
Development and design of the modular container concept
Discussion of key costs targets to help ensure profitability
Potential cost savings and fast development times
Strategy and benefits of offering slightly higher wages to attract quality employees who want to be part of the brand's culture
Being better positioned for economic downturns
The differentiating factors of the Beef-a-Roo franchise brand
Benefits of grassroot marketing and community involvement
Why you need to capture customer data and build loyalty programs
And more...

Subscribe / Follow / Like the Podcast at YouTube or iTunes to not miss an episode. Drop us feedback via email, Facebook, or Twitter.

Or listen...


Link: https://www.nextbrands.com
Link: https://www.beefaroo.com

TIMESTAMPS from Podcast...
**********
Introduction to Next Brands innovative modular container location concept [00:00:41]
Megan Rosen discusses the idea behind Next Brands modular container location concept and how it was inspired by the need for drive-through options during the pandemic.
Development and design of the modular container concept [00:02:33]
Megan explains the process of developing a full-service restaurant that can fit inside shipping containers and the advantages of this modular concept.
Cost savings and faster development time [00:06:40]
Megan discusses the cost savings and shorter development time associated with the modular container concept compared to traditional brick and mortar restaurants.
Differentiators of Beef-a-Roo [00:10:23]
Beef-a-Roo's differentiators include made-to-order food, good quality, affordability, and a variety of options.
Economic Downturn and Fast Food Sales [00:12:20]
Fast food sales tend to increase during economic downturns, leading to an influx of larger family orders at Beef-a-Roo.
Staffing and Cost Savings [00:14:08]
Beef-a-Roo advises franchisees to offer slightly higher wages to attract quality employees. The container model allows for cost savings in terms of staffing and operations.
Grassroot marketing and community involvement [00:21:43]
Discussion on the importance of grassroots marketing and community involvement in promoting a new restaurant location.
Capturing customer data and loyalty programs [00:22:22]
Exploring the need to capture customer information and the use of loyalty programs, SMS, and email marketing to engage customers.
Google review campaigns and customer feedback [00:23:39]
Highlighting the significance of running Google review campaigns, actively engaging with reviews, and collecting feedback from customers.