Testimonials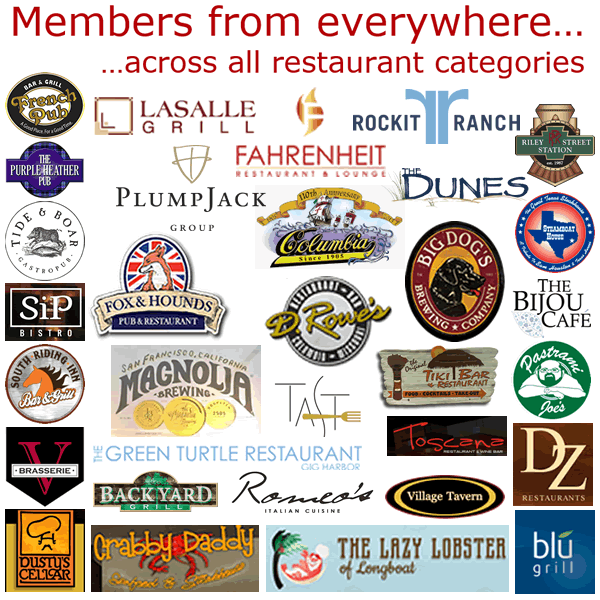 Website & E-Newsletter Feedback for RunningRestaurants.com & Restaurant Report

On-line for over 20 years now, we have received thousands of e-mails from our readers asking questions or debating editorial topics and every once in awhile sending in a heartfelt thank you note. Each of the comments below was sent in directly by our readers -- and for that we thank them!
"It's about me, the small guy, not Big Chain problems..."

"As a small neighborhood establishment, in a strip mall, it is hard to find answers that are about me (my small but mighty Bistro). Each time I read RR, I find that much of it is about subjects that effect me, the small guy, not Big Chain problems.
I have e-mailed my views and immediately get a response, or see it in the next issue. I am impressed that somehow we seem to be on the same level, and have the same concerns."
–– Al Schwartz
Bistro Al Vino - www.bistroalvino.com
"Your site has moved ahead of the competition in terms of sites I trust..."

"I value your newsletters and the content from your site. I used to use a competitor of yours more than any other site, but I think this past year your site has moved ahead of them in terms of sites I trust."
–– Eric Haraga
Fahrenheit Ultra Lounge - www.fahrenheitsj.com
"Your articles provide great content for our managers and staff..."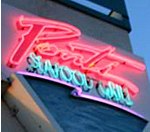 "I have enjoyed reading the RR E-Newsletter for years. The articles provide great content for our managers and staff.
We post many of the RR articles on our "Reading Board" for the staff."
–– Jessica Edwards, Dir. of Marketing & Sales
Ponti Seafood Grill - www.PontiGrill.com
"Your format makes it easy to get to what I'm interested in..."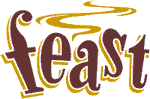 "I really like that a handful of articles pop into my mailbox each week and that I can click on the links of the articles that interest me.
The format makes it easy to get to what I'm interested in without having to sift through a lot of content that doesn't apply to me."
–– Doug Levy
Feast - www.eatatfeast.com
"I can't tell you how invaluable your website has been..."

"Just want to thank you for an excellent publication.
I will soon be a restaurant owner and I can't tell you how invaluable your website and newsletter have been. Keep up the good work. Thanks."
–– Jason Newsom
Big Daddy's Grill at River Park Marina - www.bigdaddysgrill.net
"Concise, informative, relevant content that can be used everyday to improve your operation."
–– Tracey Berkner
Taste Restaurant and Volcano Union Pub & Inn - www.restauranttaste.com
"Thank God for your site and newsletter. I wish we would have found this site before we opened."
–– Jeff Hum
Drakes Landing - www.drakeslandingrestaurant.com
"I consider RR my restaurant professor. Frankly, I consider it to be invaluable, a necessity in todays quickly changing restaurant environment."
–– Jon Miller
Exec VP of Franchise Development, Bestburger Worldwide, LLC
"I love the information. The site is very helpful and easy to understand."
–– Michael A. Bates Jr.
Executive Chef, 1800 Bar and Gril
"As part of my daily efforts to stay ahead of the competition, I utilize RR for current information and ideas."
–– Kimberly Schofield
Business Development Manager, Commonwealth Restaurant Group: Stadium Sports Bar & Grill - www.stadiumbars.com

More Reader Feedback...
I want to commend you on a terrific web site for restauranteurs! I have just spent 30 minutes browsing your site, checking out articles, links and other resources. Not only do you supply the restauranteur with terrific, accurately researched information but you supply enough links to keep anyone pleasantly perusing for hours! Thankfully this is part of my job! Keep up the good work, and I'm sure you won't mind me telling my members to check you out too.
Susan Dodge May, Administrative Assistant
Vermont Lodging & Restaurant Association
*****
I learn more from your e-newsletter than any other publication I receive. Last year I expanded my restaurant from lunch only to lunch and dinner. Hearing what other people have done in similar situations makes me know that I am not alone!
Thanks,
Fran Ginn
*****
I really enjoy this newsletter, because it gives support to the weary Restaurant Owner. I especially enjoy the articles about Philly, having grown up around LaSalle college. My heart goes out to the new Owner, I hope they are able to get it together, rethink strategy etc. Sad to say, I closed my restaurant in Ca. last September after 5 years. The restaurant business is a major challenge and you can not make it without community support, I hope it all works out. Keep up the great work!!!!
Mary
Riverside, CA.
*****
Wow, what a great service you all provide. When I had my restaurants it was something I could not live with out. And now that I have my consulting company that helps restaurants it is even more valuable to keep up on things happening. Thank you so much for having such passion in what you do.
Jimmy Bornamann, Flavor Restaurant Consulting
*****
I enjoy reading and responding to good people needing a bit of advice. I am a manager but like when servers take the time to post.
Paula
*****
We are a small independent, white tablecloth restaurant and have found a large amount of pertinent information that provides us a sounding board for ideas and verification. Thanks for the good work.
Donna
*****
Hello,
...I have thoroughly enjoyed your newsletters...Thank you very much for all of the information you provide...
Sincerely,
Carolyn L. Lieder
*****
Once again, kudos to this newsletter, its a wonderful forum for intelligent industry discussion and problem sharing.
Scott McKenzie
Chef-Owner
*****
I enjoy the email newsletter. I can write in and you actually print my question or comment. It's a good resource.
Eileen
*****
I am a teacher, and teach high school ROP baking and restaurant occupations, and use the information to keep up on what's happening in the business.
James
*****
There is always at least 1 article in the newsletter that is more interesting than normal and requires a second reading.
Jim
*****
I have found articles that have been useful that I share with my managers.
Rick
*****
I always look forward to recieving the RR newsletter. Without fail it contains pertinent information to running the day to day operations of the restaurant.
Frank
*****
Just wanted to say you have a great site. Helpful and one of the easiest to navigate.
Mike
*****
I discovered your site recently and want to tell you it is absolutely wonderful. I am owner of a small publishing company which produces trade magazines for the hospitality-beverage industry. Your site is what a site should be. Hope you don't mind if we take a few cues from how your organized and present your information.
Ed Meek - Publisher/President
*****
What a great column to wake up to...I look forward to it.
Thanks,
Chef Bill
*****
Hello, my name is Evan G. Spiegler. I am the general manager of a dinner club located in Southern Wisconsin. My experience is limited, as I am merely 22 years old. Your publication has been extremely helpful to my expanding desire and need to learn more about the restaurant business. I just wanted to thank you for all of your help. Thank you.
Evan G. Spiegler
General Manager - Club 26 - Fort Atkinson, WI
*****
Hello, I managed a small restaurant in Maine for the last two years...I was browsing through your web site and found that it has a substantial amount of valuable information that will be very helpful. Thank you for your time.
Sincerely,
Susan Lowe
*****
I enjoy the various articles and also hearing what other people in the industry are doing.
Wendy
*****
There are always interesting industry facts and helpful tips in the Restaurant Report email that I can use to become a better server!
Rachel
*****
Articles are helpful and informative. I really enjoy "management" articles. Have you considered motivational articles from time to time?
Greg
*****
We learn a lot by listening to others and learning about their experiences. As a Hospitality Student at the University of Arkansas I use it for research and comments in my studies.
Janet
*****
I find plenty of interesting tidbits from 'real people' of various positions/sectors in the service industry.
Isabel E. Howard
Coast Hotels and Resorts
Prince Rupert BC Canada
*****
I was happy to receive a copy of Issue 25 last evening, which was forwarded to me by one of my colleagues. I was particularly impressed by a feature which wrote about the culture that exists today in our industry with regard to our employees and steps that the managers of today should take in order to make business successful! I completely agree with the same and must say that the article had quite a few pointers that would be helpful for the young lads.
It would be a pleasure to receive articles from your end on a consistent basis.
Look forward to hearing from you!!
Best Regards,
Hari Nair - Asst. F & B Manager
The Oberoi - Mumbai, India
*****
I find your newsletter incredibly interesting and informative and filled with useful tips. Gets me jazzed and excited about this awesome business we are all involved with and in!
Regards,
Donna Perreault, Principal
CVA Consultants
*****
I am enjoying the culinary school tennis match immensely. What a great service you are providing for those looking for info. I have referred someone to the discussion who wrote into to FoodWeb® looking for guidance.
Joanne Lenweaver
*****
I really enjoy your newsletter and look forward to upcoming issues.
Sincerely,
Tim Imlay
*****
...you put a lot of work into this newsletter and that's the thing that stays in my memory.
Seasons Greetings,
Laura Chancellor - Santa Fe, NM
*****
I have recently had the pleasure of reading your forwarded newsletter and would like to get on your mailing list. I sit on the board of one of the largest chapters of NACE (National Association of Catering Executives) in the country and know of others who would probably be very interested as well.
Thank you for your consideration, and keep up the good work!
Joe Halbrucker - Orlando FL
*****
Thanks for your newsletter. Not only is it very informative, it makes for good reading
Sincerely,
Peter A. Caulfield - Newark, Delaware
*****
I was surfing the net and I just wanted to let you know how impressed I am with your site. I remember when you were just starting to get online. Your site is great - easy to navigate, lots of great information, articles, etc. Keep up the good work!
Barbara Rosenberg
*****
I have enjoyed the articles from your publishing for the last 12 months, and pleased to say that I have recommended your article to several friends. Thank you for all the information.
Chef David
*****
I read you newsletter from start to finish each month, great content. Well done.
Tony Eldred - ELDRED TRAINING & DEVELOPMENT
*****
I want to tell you how much I enjoy Restaurant Report ... Often I print articles and distribute them at work especially at food and bev. meetings.
Thank You,
Robert Milliard - Dining Room Manager
Newport Beach Country Club - Newport Beach, CA
*****
Restaurant Report is On the Rail's site of the Month!
We have linked to you on our hot links page
Congratulations on building a truly useful site!!!!
Janet Fouts
Editor, On the Rail
*****
I am the former chef at Tavern On The Green in NYC. Just wanted to let you know your newsletter has a world of great information.
Thanks,
Sam Hazen
*****
Your Restaurant Report is absolutely a great and informative web site! I have enjoyed my visits and am equally impressed how you have put it all together!
Sincerely,
Joan Sonntag, Editor - Specialty Produce
*****
Receiving and going through your newsletter really give me a lot of pleasure. Thank you.
Kind regards,
Tony Rogalsky
Locanda Veneta at the Bayview Hotel
South Melbourne, VIC 3205
*****
After a trip to the Boston food show last this past week, I have finally found time to sort through the maze of promotional literature and material I accumulated. After reading through your April 2000 issue of Restaurant Report, I'm embarrassed to admit that I don't recall how it got in my bag! After reading a few articles, I'm impressed and find that the content is much more in line with my business than what I typically read (restaurant hospitality, etc.) especially the article on page twelve by Scott Gray. I'm going to pass this along to my staff look through your web site hoping that the content is likewise enriching. Keep up the good work!
Jim Lyons
Banners Restaurant, Inc
Conway, NH
*****
We love your newsletter. We find it interesting, insightful and informative on subjects of interest to everyone in hospitality.
Jackson Browne
Grant Madison & Associates
*****
May I congratulate you on a superb newsletter. You provide up to date, relevant and very interesting information regarding restaurants and the hospitality industry. As a hospitality trainer, I found the information invaluable. It is unfortunate though that such a great service is only dealing with the U.S. Working in Australia, there is a dearth of good hospitality information for the industry in the form of newsletters/e-mails. Maybe such an issue could be addressed. Keep up the excellent work.
Sincerely,
Simon De Marchi
NSW Australia
*****
Thank you for your newsletter, as a future restaurant owner, I value any information I can get to be a better informed entrepreneur...the value I get out of it is much more than you will know.
J. Miller
*****
I'm not exactly sure how I wound up on your site, but am very happy I found it. IT is a wealth of information for both the restaurant owner as well as the restaurant patron. All contents are enjoyable.
Thanks!
Bill Girolamo
*****
I discovered your website yesterday in my constant search for recipe ideas for my restaurant. I was thrilled to finally find a site with the whole package. All your links are great and informative and I jumped on the Internet today and read up on some great articles concerning operations.
Thanks!
Lantz Price
Owner of Plums Restaurant; Beaufort, SC
*****
WOW. All my prayers are being answered! What a fantastic newsletter. Thank you for doing it.
Carolynn Svoboda
Fellow independent restaurant owner and lifetime food person.

*****
We are very proud that readers who have visited us over the years have taken their valuable time to become members of our community. Thank You!