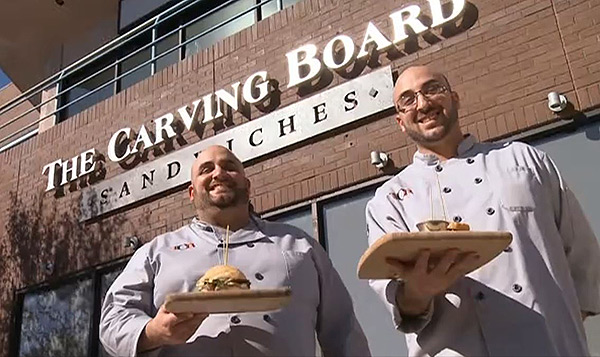 Brothers David and Yoav Adir founded The Carving Board by masterminding a 50+ item menu based on their favorite dinner meals and love for sandwiches.
Already garnering national attention for its unique mouthwatering creations such as the Spaghetti and Meatballwhich - classic twist on spaghetti and meatballs where the spaghetti noodles actually serve as the bread, the fast-casual franchise space is catching wind as the brand is set to expand to 10 locations by year's end.
We caught up with David for a quick Q&A...
RR: How has your background helped you succeed to this point?
DA: My brother Yoav and I worked our way up in the restaurant business, starting as dishwashers, to servers, to managers, to co-founders has really helped us learn all aspects of the industry. Overall, it gave us a better understanding of best practices which helped us launch The Carving Board, a fast-casual restaurant that provides comfort food sandwiches of the highest quality.
RR: What do you think it takes to be a successful restaurant in 2017?
DA: Diners are a lot more educated now about food and nutrition than they were 20 years ago. They really want to know where their food comes from and what is in it. I believe that finding high quality ingredients is a start to being successful. The food quality, restaurant décor and service all create the atmosphere. In order to make sure your guests have a great experience, all aspects need to be seamless and flawless. When diners walk into one of The Carving Board locations they are greeted with the aroma of freshly baked bread and thoughtful flavor pairings while also experiencing the warm rustic atmosphere created by the reclaimed wood used throughout the restaurant.
RR: What tactics do you use to get "local" at a new location? And does social media play a role?
DA: When opening a new location we like to host an event for local bloggers and media, where they can taste the food and meet the staff. Social media plays a huge role in making our new location "local." We have never used traditional advertising tactics; all of our exposure has been through social media and word of mouth. A way we incorporate the community in each of our restaurants is by displaying an art installation made by local artists.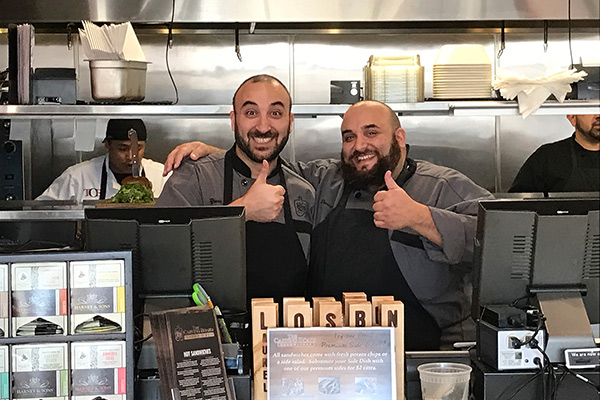 RR: Leading a diverse restaurant team can be a challenge. Can you share 2-3 key leadership tips/techniques you use?
DA: We make sure we really get to know the staff that works for us. We want our staff to love what they do not just come in to work to get paid, so developing friendly relationships with our employees is very important. Another important aspect of leadership practiced at The Carving Board, is the importance of communication. Our company culture is one where we all communicate openly. The staff can reach out to me or other members of management at any time, and they do. We try to support our staff in any way we can.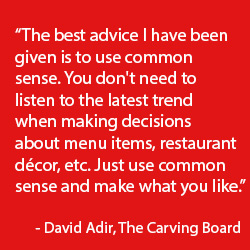 RR: How are your restaurants embracing tech & mobile trends?
DA: I believe technology should be top of mind for everyone, no matter the industry. It has shaped society and we as restaurateurs should appreciate the technology available and try to apply it to the industry. In The Carving Board locations we embrace technology by using digital menu boards to display our gourmet sandwich selections. As far as a mobile trend, social media is a large factor for our restaurants, it provides for the advertising and exposure of the brand.
RR: By the way...what's your favorite sandwich at the restaurant?
DA: The "Turkey Dinner" sandwich; oven roasted turkey, stuffing, grilled onions, turkey gravy and dried cranberries all overflowing on a toasted sliced sourdough and served with an extra side of gravy. I love making it after thanksgiving with all the leftovers. Now I get to have it all year-round!