Nation's Biggest Shipping Container Restaurant Opening in Asheville (NC) This Spring
publication date:
Mar 29, 2015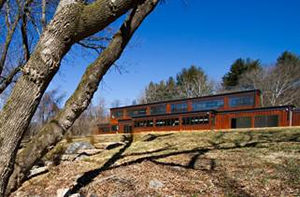 Smoky Park Supper Club is poised to offer a dining experience unlike anything else in Asheville—or anywhere else in the world for that matter. The highly anticipated riverfront restaurant is constructed from 19 shipping containers, making it the largest shipping container restaurant to date, with a wood-fired menu designed by local farm-to-table pioneer chef, Mark Rosenstein.
Matt Logan, the owner of 5 Walnut downtown, purchased the 1.8 acre property along the French Broad River in 2011 with a dream to create a riverfront restaurant where patrons could walk, bike, or boat in, and enjoy delicious local foods with a stunning view. After a detailed cleanup period, then planning and securing permits, Logan has been working steadily with operating partners Kristie Quinn and Rosenstein, and their design-build team to get the restaurant ready for a spring 2015 opening.
The design team includes lead designer Douglas Hecker, a Professor of Architecture at Clemson University, architect Myles Alexander, and David Cross, VP of Business Development at SG Blocks—the company that prepared and delivered the containers from a port in Jacksonville, Florida, and installed them on site in Asheville.
"Our partnership with SPSC resulted in a unique and exciting project. A successful collaborative effort yielded a seamless installation for an otherwise complex structure. The core and shell was erected in just two days. We're proud to have been part of bringing the largest container based restaurant in the U.S. to life," said Cross.
In recent years, SG Blocks has worked on a host of innovative shipping container environments for companies including Lacoste, Mini Cooper, Puma, and Starbucks. Smoky Park Supper Club is their largest shipping container restaurant project thus far.
Reimagining the Supper Club, in Asheville
The nearby Jeff Bowen Bridge, formerly known as the Smoky Park Bridge, was built in 1951 and is the namesake for Smoky Park Supper Club, although "supper club" in this case does not refer to an underground dining scene. Back in the 30s, 40s, and 50s, supper clubs were outdoor properties where families would go for the whole day and then stay on for dinner and a band at night; a concept that Smoky Park Supper Club is excited to introduce to Asheville.
"Guests can pop in for lunch, or lounge on the grounds with a drink by the river. In the evening, you can stay on for dinner inside the restaurant or enjoy table-side service outside. We'll also have a lineup of live entertainment," said Logan.
The restaurant is now in its final stages, with work being done on interior finishes, bar furnishings, and final touches including local art. A sweeping cherry wood bar by local craftsman Peter White will offer an elevated view of the French Broad River inside the restaurant. Behind the bar, large windows open for outdoor walk-up service on the 2,400 square foot wrap-around deck. Around the side of the main door, a take out window allows patrons to call ahead--from the river or the road--and pick up food to-go or enjoy on the grounds. Inside the kitchen, a 9,000-pound Le Panyol oven is the centerpiece for the wood-fired menu, with a dining room window looking into the action.
"I have been working on this menu since 2009. We are just at the beginning of a long adventure," said Rosenstein.
Rosenstein was the founder of The Market Place, which he opened in 1979, establishing his reputation as a pioneer in Asheville's farm-to-table movement. In the coming weeks, Rosenstein said they'll announce the head chef for Smoky Park Supper Club, who he will be closely mentoring and collaborating with. As for the food, Rosenstein describes the wood-fired menu as "simple, direct, and live-fired."
"Think charred, seared, and smoked--all the many nuances of cooking with flame. At Smoky Park Supper Club, we'll do it all: seasonal vegetable sides and slow-roasted local meats."
One thing that won't be on the menu is pizza, because, as Rosenstein points out, they'll leave that to other area restaurants. What SPSC aims to do is deliver food that you can't find anywhere else, with a menu that is straightforward and inviting.
"The strongest statement you can make is that you've mastered the basics and taken them to sublime simplicity," said Rosenstein.
Thirty feet from the restaurant, an open air venue called "The Boathouse," will be available for private parties, weddings, farmer's markets, and art fairs. It will also be used to host special events for nonprofits, and Quinn says they are working on a program to offer the space to various community programs and nonprofits throughout the year. For the last year, Smoky Park Supper Club has been hosting Greenworks as their three-year nonprofit tenant on the property, in an upcycled building adjacent to their office.
"I am inspired to be part of the wonderful team that is putting this together," said Rosenstein. "Matt, Kristie and I connect on so many levels. It is all about hospitality. Good food is only one component. With the restaurant, the river, and the beautiful environment, Smoky Park Supper Club will be a total experience."
About Smoky Park Supper Club: Smoky Park Supper Club is located at 350 Riverside Drive in Asheville, North Carolina. It is the nation's biggest shipping container restaurant to date, on close to two acres of land, featuring a wrap-around deck and stunning views of the French Broad River. The menu created by Asheville's original farm-to-table food pioneer, Mark Rosenstein, features wood-fired foods with an accent on classic American fare and seasonal offerings. Visit smokypark.com to learn more.
About SG Blocks: SG Blocks is the premier innovator of commercial and private environments utilizing code-engineered cargo shipping containers. Providing solutions to some of the world's biggest companies and government agencies, SG Blocks offers cost effective container-construction technology that exceeds many standard building code requirements. The Company works with developers, architects, builders and owners to achieve faster execution, stronger high-value buildings, and greener construction. For more information, visit www.sgblocks.com.