How important are the holidays to your sales mix?
publication date:
Nov 20, 2018
|
author/source:
Michael Attias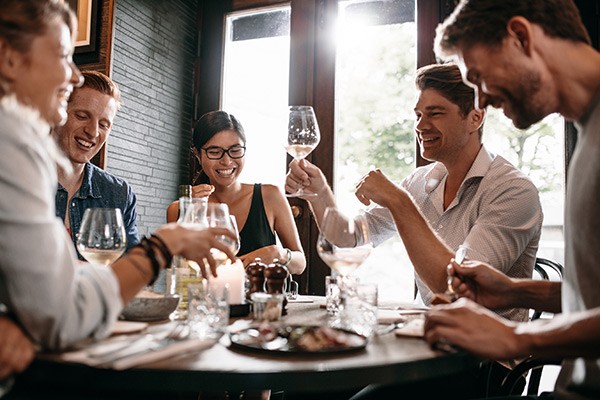 I know for many readers that the combination of groups reserving tables and private party rooms for holiday parties, as well as, drop off and full service catered parties represents a significant source of profits at year-end.
As competition increases from the major chains, shrewd operators are turning to catering as a way to build their holiday business (non-holiday business too). Let's examine some of the areas so your year will end on a highly profitable note.
Holiday Meals: Gone are the days of mom slaving away for two weeks prior to Thanksgiving and Christmas. With both spouses in the workforce, your customers are trading baking pie for "peace and quite". If your dining room isn't open on Thanksgiving or Christmas day, you might consider selling a ready to go holiday meal. Whether it's your famous prime rib or you wish to roast turkeys for your customers, packaging a heat-and-eat holiday feast will bring you praise and profits from your patrons. Each year we sell hundreds of hams and turkeys to our customers. You do not need to spend an arm and a leg to get this off the ground. Table tents, signs, banners and flyers are a low cost tactic to get the word out to your customers. I would offer two options: the main course only or a complete meal that also includes sides, bread and dessert. You do not have to confine your menu to ham and turkey. Some people get enough of the traditional fare at holiday parties and are excited to sub stitute prime rib, rack of lamb or a Tuscan roast.
Home Based Holiday Parties: If your mailbox is like mine, each holiday season brings invitations that could keep you holiday party hopping until New Year's Eve. Many of your customers put together small open houses to rekindle friendships at holiday time. Your restaurant is probably famous for your share of dishes. From spinach & artichoke dip to pesto shrimp cocktail, you're already making specialties your customers would love to buy. Make up menus and sell them at bulk prices - by the piece, pound or pan. Offer to either decorate a platter ready to go or fill their serving dishes with your specialties. Again, getting the word out to your current customers is the way to go without busting your bank book. If you have a local tv cooking segment, volunteer to prepare your specialties in exchange for the free pr.
Party Room Rental: If you have a party room or take party reservations during the holidays, make sure you get your customers to book early. Start by calling last year's parties and offering them advance pick of dates. They'll appreciate the fact you're looking out for their best interest and rebook this season. You might also use the phone call to upsell them to a higher priced option. Review what they did last year and create a menu to wow them and profit you. More and more restaurants are incorporating dinner and a show. You might charge a hefty premium and have your chef demo the different courses prior to serving. With America's fascination with Food TV, you'll find your customers with the biggest egos and wallets will jump on this. An open house can also work wonders to get your party book filled. Invite your best customers for an afternoon or evening of your chef's best holiday creations.
Off Premise Catered Events: From sit down black tie dinners to office cocktail parties, more and more companies and individuals trust their favorite restaurant to cater their holiday party. Direct mail is the most cost effective tool to get your dates booked. I am a big believer in targeted direct mail to get the sales message out. I also like to dangle the "free holiday sampling" bait in front of prospects. You can do group tastings with multiple companies or one on ones. Every restaurant has a menu that translates to catering. A breakfast place can offer waffle and omelet bars, and a Mexican restaurant can offer Fajita Buffets complete with chef grilling chicken, shrimp and steak on site. Make sure you develop menus your staff is prepared to execute. The profit advantages are great in off premise catering, but you want to make sure you can execute well or your reputation can be blown.
Drop Off Caterings: If catering is new to your restaurant, you might want to get started with drop off meals. Add an entrée or two, choice of side dishes, bread, dessert and drink and you have an entire party ready to go. This is perfect for smaller groups and budgets. Thanks to aluminum pans and nicer disposable plastic trays, you can be up and running inexpensively. You might decide to handle delivery and set-up yourself or outsource it to a courier service. The level of service and price needs to be congruent with your concept. Shop out your competition to get a handle on the market. Direct mail and onsite promotion to existing customers work equally well on getting the word out. If you have a message on hold system, make sure and change to a holiday script. A well designed half page flyer will also get you lots of mileage. A strong hostess staff can hand out your flyers when seating guests with a small mention of your catering packages.
You know the prime nights will get booked without much effort. But what's your action plan to fill non-peak hours?
Discounting will ruin your reputation and only bring back customers for the next discount. Throwing an 'ethical bribe' into your catering and party booking mix will get your non-peak holiday calendar filled.
Try giving away free bonus gift certificates or a premium like a set of six of your finest steak knives or tickets to a play coming to town in January. Or maybe the latest tech gadgget. The key is that it's a very high perceived booking bonus that is a good trade for a thousand dollar plus event. The value added bonus you give away for booking a party during your non-peak times is well worth the extra revenue you can generate.
Many companies outside the restaurant industry use premiums, gift certificates and rebates to strategically bump sales. Use this strategy with your existing customer list and those businesses close to your trade area. You will find that a little something extra for the party planner will get your calendar filled fast.
Your rent and overhead are paid whether you take advantage of holiday caterings or not. You work hard, so why not maximize your holiday sales with the bonus bucks catering will provide. Your customers will be catering with someone. Let it be you!
---

Michael Attias is the founder of Restaurant Catering Systems and a former partner and operator of a restaurant that sold over $1,000,000 a year in catering out of a 104 seat location. After he sold his interest in the restaurant, he dedicated his resources to the creation of the first web based catering software for restaurants.