New Way for Using Checklists with Staff
publication date:
Aug 20, 2020
|
author/source:
Nick Fosberg



I'm a big fan of creating systems and processes as those are key ingredients to have a business that can run itself!
Over 10 years I've tried and failed at many things when it comes to creating these systems / processes.
Over the last 2 years I've used a free app called Trello for my opening and closing checklists, cleaning checklists, etc. They'd pop up on an iPad for the staff and it's basically a digital checklist for them to do.
I included links to pictures / videos within the checklist as well for those who may forget for instance - how to lay out the bar mats, how to turn on TV's and sound with our system, etc.
However the downfall to this system was staff was just doing everything on their own, thinking they knew it all, and at end of day would just check everything off - MISSING stuff.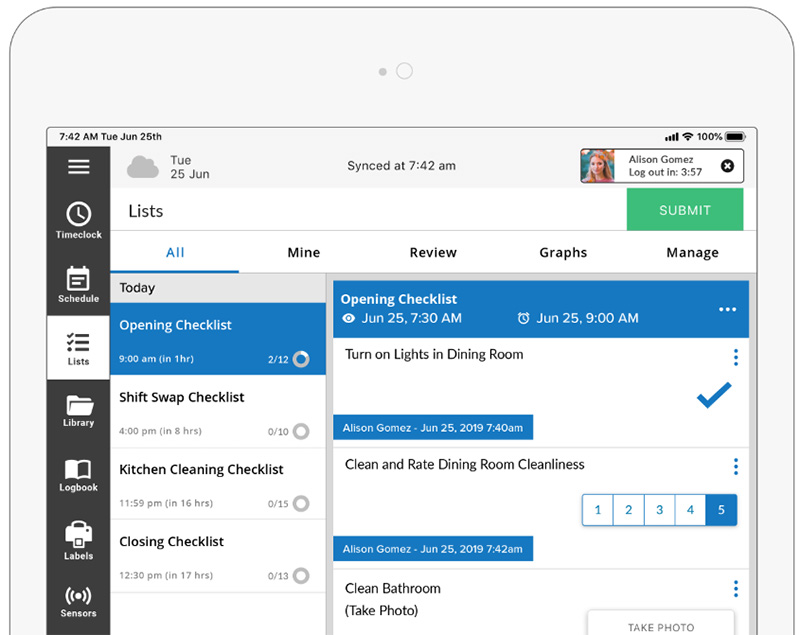 New Solution
Last month I came across a company I had used in the past for this type of stuff. Jolt.
We used them for 1 year or so and I don't remember why we stopped using them. I think it was because I was being cheap and went to Trello which was free, plus I use Trello for everything else in my life so I thought just focusing on one platform was better.
But I was wrong.
Here's what I love about Jolt that helps with accountability - their checklist options!
Instead of just having a checklist that you check off, they have it where you have to:
Answer a yes or no question
Answer with your own response
Scan a QR code to check it off
Take a picture to check it off
Scale of 1-10 to check it off
Plus much more
Here's a few examples how we are using some of these features.
1. Our front door has 2 doors and one has a latch at the top to lock one of the doors. That has been missed at least 5-10 times in the last 12 months we've been open. To solve that, we placed a small QR code in the corner of the door that must be scanned to check it off. Now it's impossible for them to leave without scanning that.
2. We ask that servers wipe down the walls next to garbage cans before they leave. Now, in order to check that off, they must take a picture of the wall and it attaches to the checklist.
3. The answer with response feature - I ask to get overview of the night / day. Any problems? Anything broken?
The Problem
Here's the only problem that there ISN'T a way to get around. It takes TIME :) to create these checklists.
And this is the BIG PROBLEM so many owners face - because something NEW and CHALLENGING they create excuses to do other work and brush stuff like this off which then keeps their business not working as smooth as they'd like.
If they'd just put a total of 3-5 hours to sit down and put systems like this in place and invest in technology that makes our lives easier - they'd be much happier with their business.
Conclusion
If you want a business that can eventually run itself without you, you need systems and processes in place that your team can follow. This ISN'T "fun" work but by taking the time to do this work, it'll allow you to have more FUN outside your business!
Check them out at Jolt.com
---

Nick Fosberg, author of "100/80/20 Marketing Formula," is known as one of the highest paid, marketing and promotional consultants in the bar & restaurant industry and he owns 2 bar / restaurants in the Chicagoland area. He's famous for creating some of the highest grossing digital marketing promotions in the history of the bar & restaurant business...without spending a penny on marketing. All done through e-mail & Facebook posts. Click here to get the Report: 30 Bar Promotions That Increase Revenue.