Five Tik Tok Tips for Restaurants
publication date:
Mar 16, 2023
|
author/source:
David "Rev" Ciancio


Are you a restaurant owner or marketer struggling to promote your business on social media? Have you considered using TikTok as a marketing tool?
As you know, TikTok is a video-sharing social media platform that has become incredibly popular, with over 1 billion active users worldwide. In this blog post, we will discuss the importance of TikTok for promoting your restaurant and provide five tips on how to be successful at marketing your restaurant on TikTok.
Why is TikTok important for promoting your restaurant?
TikTok is a powerful marketing tool that can help you reach a new and younger audience. According to Oberlo, over 60% of TikTok users are between the ages of 16 and 24. This is a demographic that is often difficult to reach through traditional marketing channels. TikTok is also incredibly engaging, with users spending an average of 52 minutes per day on the app. This means that there is a significant opportunity for your restaurant to capture the attention of potential customers.
Here are five tips on how to be successful at marketing your restaurant on TikTok:
1. Showcase Your Food and Drinks
One of the best ways to promote your restaurant on TikTok is to showcase your food and drinks. Create short videos of your most popular dishes and drinks, and highlight their unique features. Make sure to use hashtags and music to make your videos more discoverable and engaging.
2. Collaborate with Influencers
Collaborating with influencers is a great way to reach a wider audience on TikTok. Find influencers who have a similar target audience and collaborate with them to create content that promotes your restaurant. You can offer them a free meal or a discount in exchange for their promotion.
3. Highlight Your Restaurant's Atmosphere
TikTok is a visual platform, so use it to showcase your restaurant's atmosphere. Create videos that highlight the ambiance of your restaurant, such as the lighting, decor, and music. This will help potential customers get a feel for your restaurant and encourage them to visit.
4. Host Challenges and Contests
Hosting challenges and contests is a great way to engage with your audience on TikTok. For example, you can create a challenge where users have to create a video of themselves trying your restaurant's spiciest dish. This will not only engage your audience but also help promote your restaurant to their followers.
5. Offer Exclusive Promotions
Offering exclusive promotions is a great way to entice potential customers to visit your restaurant. Create exclusive deals and promotions for TikTok users, such as a free appetizer or a discount on their meal. This will encourage TikTok users to visit your restaurant and share their experience with their followers.
TikTok is a powerful marketing tool that can help you reach a new and younger audience. By showcasing your food and drinks, collaborating with influencers, highlighting your restaurant's atmosphere, hosting challenges and contests, and offering exclusive promotions, you can be successful at marketing your restaurant on TikTok. With these tips, promoting your restaurant on TikTok can be easy and effective.
Want a playbook that shows you an EXACT step-by-step process that your restaurant brand needs to do to get started on TikTok, build a strategy that works and create engaging content that works on the platform?
Get My Tiktok Growth Guide NOW called TikTok For Restaurants: What You Need to Know.
It's packed full of practical advice, best practices and success stories from other restaurants just like yours.
You'll learn how to create engaging content, grow your following, and drive more traffic to your restaurant - all in one easy to understand and implement guide. Check it out now!
---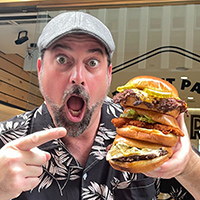 David "Rev" Ciancio is a co-owner of Handcraft Burgers & Brew and also a Brand, Customer & Technology Evangelist. Rev helps tech and software companies generate more leads, quicken the sales cycle, create memorable customer journeys, all while building fervent brand ambassadors and growing business & sales. He helps restaurants to make tech decisions and to create guest acquisition and retention marketing that works. Get more marketing tips from Rev at #revsmarketingtips