You have received your landlord's lease-renewal proposal...what is your next step? Your job isn't to simply accept those terms. The proposal is just the beginning.
Just like a good boxer, a restaurateur will find numerous character traits very important when going back and forth with multiple counteroffers. These include mental stamina, strong will, and patience. Often, a landlord will win a negotiation with a tenant due to greater endurance.
Put it in Writing
One of the first things you need to remember is to put your signed counteroffers in writing, with an expiry date within which time the counteroffer is open for acceptance. Normally, you would have had a prior verbal conversation with the landlord or their representative about renewing your lease. It generally makes for a better deal-making process if you don't blindside anybody in your counteroffer. That means discussing your concerns with them in advance so that at least when they see your counteroffer, they aren't taken aback.
If you have a complaint about the broken-down fence along the property line, start by asking your landlord about it. If you are told that fence repairs are already scheduled for next month, then you will not have to ask them to complete it. Instead, confirm that this work will be completed and ask for that verification to be supplied to you in writing.
Look for a Rent Reduction
Making your pitch for a rent reduction prior to your lease renewal is not an unreasonable request. Depending on your rental rate, staff wages, and number of customers, you may be struggling more than you should be and need to evaluate what you can reasonably afford to pay your landlord. If your problem is low sales, now is the time to ask yourself, "Why is this happening?" There may be any number of valid answers beyond your control - there may be many vacant units around you, the anchor tenant may have moved out of the property, an industry competitor may have opened up shop nearby, the economy may have shifted, or another landlord has built a brand-new development close by that is drawing customer traffic away from your location.
Have Other Options
Another recommendation is for you to do site selection (even if you don't want to/plan to move), collect written Offers to Lease, and play one landlord against another. By doing so, your existing landlord may think that they may lose your tenancy to another property. Explain to your landlord that listing agents for other properties have been chasing you with leasing opportunities for a better reception. Landlords can't blame you if they think another agent was simply prospecting your tenancy.
If you're tempted to try and bluff your way through this, think twice! Landlords know what other spaces are for lease in their area and at what rental rates. Hold a written lease proposal from a competing landlord in your hand and even show it to your current landlord (at the appropriate time) to drive home the point. Restaurant tenants can create competition for their tenancy even if the properties are far apart or not equal in class or rental rate. Whether you are lost to a nicer, older, or more expensive property, your existing landlord still inherits a vacancy.
If you started working on your lease renewal well in advance (the recommended route), you will have the time you need to play the waiting game with a slow landlord. If your lease deal is not progressing as quickly as you would like, don't hesitate to ask why. The landlord may be thinking about listing the property for sale and doesn't want to renew your lease at a lower rate than you're paying now for fear it will devalue his property (and it will). The landlord may be waiting to see if another key tenant is going to renew their lease or move out. Alternatively, the landlord may be thinking of demolishing the building to make way for a new high-rise condo. Generally, if a landlord is slow to respond or reluctant to engage in a lease-renewal process without a good reason, it means potential trouble for the tenant.
Don't Assume Anything
Now that you have the landlord's lease renewal proposal in-hand, don't just assume that everything will go smoothly. As The Lease Coach since 1993, we have found that restaurant tenants often leave a lot on the table when negotiating a commercial office lease or renewal. Rarely do things ever go as planned and you always have to account for Murphy's Law. Renewing your commercial lease takes just as much time, effort, negotiating expertise and careful consideration as your initial lease - if not more!
Restaurant tenants are often at a disadvantage when negotiating (or renegotiating) with a commercial landlord. Restaurateurs may have only negotiated or renegotiated one or a few commercial leases / lease renewals in their lifetime, while landlords (and leasing agents) negotiate lease deals every day for a living. If ever in doubt, hire a qualified Lease Consultant (who is working for you and being paid by the tenant) to advocate for you, represent your best interests and to get you the best lease deal possible. Remember, in commercial leasing, restaurant tenants don't get what they deserve … they get what they negotiate!
For a copy of our free CD, Leasing Do's & Don'ts for Restaurant Tenants, please e-mail your request to JeffGrandfield@TheLeaseCoach.com.
---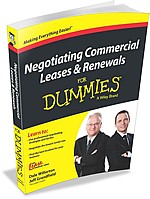 Dale Willerton and Jeff Grandfield - The Lease Coach are Commercial Lease Consultants who work exclusively for tenants. Dale and Jeff are professional speakers and co-authors of Negotiating Commercial Leases & Renewals For Dummies (Wiley, 2013). Got a leasing question? Need help with your new lease or renewal? Call 1-800-738-9202, e-mail DaleWillerton@TheLeaseCoach.com or visit www.TheLeaseCoach.com.