Andre's Bistro & Bar Fights Childhood Hunger by Becoming LVIP Dining Participating Restaurant
publication date:
Jun 21, 2017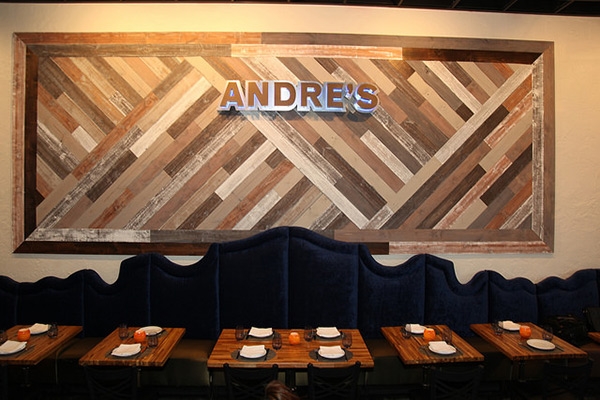 Andre's Bistro & Bar has joined the battle to end hunger in the Las Vegas Valley by joining LVIP Dining, the exclusive dining club in partnership with Three Square Food Bank. Participating restaurants offer exclusive dining deals to members, while supporting the mission to make Southern Nevada a hunger-free community for all children.
"We are dedicated to our community and when we discovered this program and their mission to support and provide for the children of Southern Nevada, we knew we wanted to be part of the solution," says John Wood, managing partner, Stacked Hospitality (parent company of Andre's Bistro & Bar).
LVIP Dining has more than 3,000 members who typically dine out at least once a week and usually have two to four people in their party. Dining enthusiasts are encouraged to become an LVIP Dining member to receive special offers and be part of the solution to make Southern Nevada a hunger-free community. As a special "thank you" for members, Andre's will offer complimentary desserts for Ending Hunger Dining Card holders throughout the year. LVIP Dining offers two ways for members to participate in dining out and making a difference:
The "Restaurant of the Month" program: Each month, diners can explore one new restaurant, which will offer exclusive dining deals during that month. This option is ideal for those who enjoy finding new favorite restaurants throughout the year. For each purchased meal, three meals are provided to hungry Las Vegas area children. Andre's is looking forward to being the September 2017 Restaurant of the Month for LVIP Dining.

The Ending Hunger Dining Card: Andre's will offer ongoing discounts to LVIP Dining members who purchase this optional card for $25 per year. Ending Hunger cardholders are entitled to ongoing discounts at all partner restaurants listed on the LVIP Dining website. For each Ending Hunger Dining Card purchased, 25 meals are provided to hungry children throughout Southern Nevada.
For more information on LVIP Dining please visit www.LVIPDining.com. For reservations, please go to www.AndreLV.com or call (702) 798-7151.