Chicago restaurant Alinea to help end hunger in Africa this Christmas
publication date:
Nov 20, 2014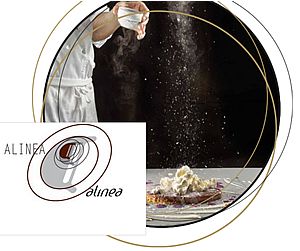 For many smallholder farmers in Africa struggling just to put food on their families' tables, life can be a daily struggle. Christmas is especially hard for parents when all too often they have no choice but to send their children to bed hungry.
But this year Alinea is playing its part in the fight to help end hunger. It has joined a group of twelve of the finest restaurants on the planet to make Christmas 2014 a very special one for African farmers and their families.
Alinea is auctioning an exclusive dining opportunity in aid of Farm Africa, the charity that is working to end hunger in eastern Africa – for good.
The Alinea auction is part of the Twelve Days of Christmas Auction, put together by Farm Africa and the eleven other participating restaurants which, like Alinea, are all listed in the prestigious The World's 50 Best Restaurants List 2014.
Chicago's Alinea will be the first restaurant to auction off an unforgettable dinner when bidding opens on November 21. And for each 11 days after that, bidding will start on another leading restaurant of the world. Diners will have twelve days to bid for the chance to dine at their favourite restaurant.
Bidding for Alinea opens on November 21st and runs for twelve days before closing on December 1st.
The Twelve Days of Christmas Auction is inspired by the idea that food is both precious and has a unique ability to bring people together. And Alinea is making that idea real this Christmas when diners will be offered the opportunity to buy a very special experience that both brings them together with family and friends and raises money to support Farm Africa's life-changing work to tackle one of the world's most pressing problems: hunger.
Looking forward to Alinea'sTwelve Days of Christmas Auction, Farm Africa's Director of Fundraising and Communications, Pam Williams-Jones, said:
"Whilst the beautiful food and luxurious dining room of Alinea are a world away from African villages, preparing and sharing food brings us all together. So it could not be more fitting that Alinea has got behind this campaign with such passion. This Alinea auction really is a one-off chance to experience a unique meal in one of the world's finest restaurants while making a real and lasting difference to the lives of African farmers and their families. I urge everyone to get involved."
For further details on the Alinea auction and the other eleven restaurants taking part in The Twelve days of Christmas auction, please visit Farm Africa's specially created microsite where you will also find information on how to bid: http://www.foodforgoodauction.org
Other Participating Restaurants
Amber (The Landmark Mandarin Oriental Hotel, Hong Kong); Asador Etxebarri (Spain); Restaurant Andre (Singapore); Astrid Y Gaston (Peru); Le Calandre (Italy); De Librije (The Netherlands); Mani (Brazil); Attica (Australia); Per Se (USA); Osteria Francescana (Italy); and Mugaritz (Spain)