7 Skills of Effective Restaurant Managers
publication date:
Jan 17, 2020
|
author/source:
Robert D'Ambrosia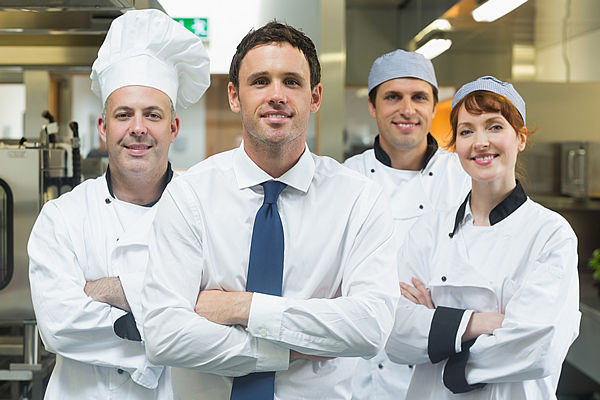 Everyone who has worked in a restaurant has a story about a terrible manager and also about a manger that they loved. Recognizing the managers that employees want to work for can reduce turnover and increase job satisfaction which, in turn, leads to a better customer experience. The manager also needs to lead with the business interests in mind to be effective in all facets of restaurant management. Below are seven skills that effective restaurant managers must possess.
Proactive Planning
Maintain an appropriate inventory to ensure that your staff has the tools that they need to serve your guests. This includes not only food and beverage, but also silverware, cups, and anything else needed for full service. Your servers can't upsell after-dinner coffee if you run out of coffee or there aren't enough cups to serve coffee in.
Use sales history to forecast upcoming business and schedule staff for service. Post your schedules in advance. Having the appropriate amount of staff on hand will help create a seamless service experience for the customer and your team.
Passion for Customer Service
The best food in the world wouldn't keep your business going if the customer experience is unsatisfactory. The best restaurant managers are good examples for their employees. They provide exemplary customer service and build relationships with their customers to set the standard for their employees. Excellent food and excellent customer service ensures the customer will want to come back.
Time Management
There are many demands on a restaurant manager's time. Time management becomes an important tool in achieving all of your goals. Proactive planning often means time in the office, but it is important not to get bogged down in the paperwork or reports because providing excellent customer service requires you to be on the floor interacting with guests and supporting your employees. Effective time management allows the restaurant manager to achieve business goals and satisfy the customer.
Communication
Communication is a two-way street. Be clear, open, and consistent in your communication with your guests and staff. Actively listen and receive feedback as well as provide constructive feedback. It is important to not only recognize areas in which your staff can improve, but also call out their strengths as individuals and as a team. Set clear and achievable expectations for your staff and be professional, discerning, and diplomatic in your communication.
Problem Solving
Anything and everything can and will happen in a restaurant. From employees not showing up for scheduled shifts, to someone smoking and setting off the sprinkler system, to the dishwasher springing a leak, not to mention table 12 going into labor, there are constantly new problems and issues to address. A good manager is responsive, calm, creative, and flexible to ensure operations continue to run smoothly in the face of the unexpected.
Consistency
A good manager is approachable by both employees and guests. A manager who has inconsistent moods or attitudes is one that employees cannot approach with problems or issues. Your actions and reactions need to be consistent to create a safe and comfortable environment for employees and guests alike.
Business Awareness
Many managers have great people skills and customer service but no awareness of the bottom line. Regular guests may be happy when you comp all of their cocktails every time they come in, but that takes away from the bottom line. Rather than give away the bar, comp an occasional drink for your guests. Know how to read a P&L and what contributes to each section and how you make an impact.
---

Robert D'Ambrosia is the former CEO & Founder of Ctuit Software, a restaurant management software suite of tools and dashboards that provide deep insight into a restaurants' financial and operational performance.