6 Ways to Show Customers You Appreciate them this Thanksgiving
publication date:
Nov 18, 2022
|
author/source:
Megan Prevost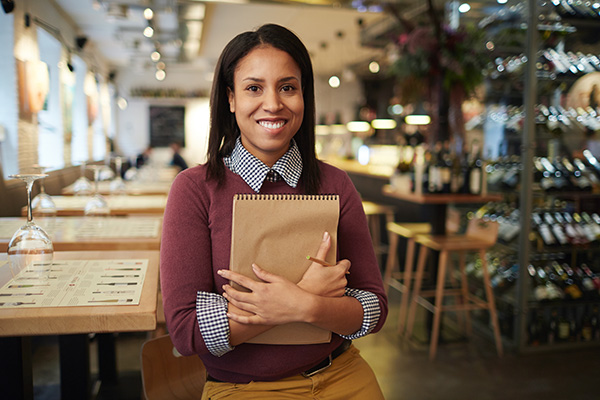 While Thanksgiving is the perfect time to show your appreciation for family and friends, it's also a great time to give thanks to the customers who love and support your business. Your loyal customer base is definitely something to be thankful for this holiday season, and it's important to take the time and effort to show them just how much you appreciate them.
From specialty dishes, to holiday discounts, there are many ways to show your customers that you care, and just how valued they are. Here are six ways to show your gratitude for your restaurant regulars and keep new customers returning.
1. Design a limited, specialty menu to highlight holiday favorites
We all know the dishes that make Thanksgiving dinner the favorite meal that it is. From appetizers to mains, Thanksgiving themed courses are well-known and well-loved by many. Because this meal only happens one day a year, offering a limited specialty menu to highlight some Thanksgiving dinner favorites is a great way to give your customers an added bonus to enjoying their favorite holiday. Whether it's a single dish or an entire Thanksgiving menu, customers will appreciate the opportunity to extend the best meal of the year, even if it's for a short period of time.
Classic Thanksgiving food fits into just about every menu category. Adding a temporary dessert dish as an homage to the feast is a great way to give your customers an extra something special. The inclusion of everyone's favorite sides such as mashed potatoes, stuffing, and sweet potato casserole is a great way to top off a short term menu without having to do a complete overhaul.
Even specialty cocktails inspired by the polarizing cranberry sauce or pumpkin pie can be a simple way to enhance your holiday offerings. For customers who prefer to skip the turkey, these classic contenders will be a perfect option. Thanksgiving's biggest fans will be sure to partake in your limited edition menu, and will be sure to talk about it until the next time Thanksgiving rolls around.
2. Offer Gift Card specials
Thanksgiving falls at the prime time for gift shopping and retail isn't the only business that can benefit from Black Friday. Gift card specials are a great way to boost gift card sales while also giving back to your customers. Offering incentives for gift card purchase will motivate customers to stock up while getting something in return.
Your customers will be thankful for both the opportunity for gift-giving, and gift-getting. A buy one get one deal is always a favorite during the holiday season. Customers will have a chance to stock up on gift cards for their favorite restaurant while also gaining something for themselves. Who doesn't love a freebie?
3. Stay Open On Thanksgiving
While Thanksgiving dinner is generally thought of as a home cooked meal, not everyone has the time, ability, or resources to cook an entire feast for the whole family. Even if they can't cook it, they still want to be able to enjoy it. Staying open on Thanksgiving allows your customers to have an effortless meal on a day where eating out is usually difficult. Because there aren't many restaurants that offer Thanksgiving meals, your restaurant will be sure to stand out as one that is committed to its customers.
This once a year activity should be memorable, and hosting Thanksgiving dinner at your restaurant can help take some of your customers' stress off their shoulders. If you do decide to stay open, be sure to circulate the information on your social media channels so that customers can get to planning. Taking reservations in advance also ensures that everything will go smoothly the day of.
4. Offer Thanksgiving Catering
If staying open full-service isn't an option, catering is a great way to meet the needs of your customers without keeping doors open. Customers who love the holiday but don't love the hassle will appreciate the chance to get their favorite dishes in their kitchens the day of, without all the chaos of cooking.
Catering on specialty holidays such as Thanksgiving ensures that your customers can support your business in the comfort of their own homes. Give customers the options of sides, entrees, or desserts with either pick up or delivery. Thanksgiving catering will make you a hero in the eyes of your customers, and their well-fed families.
5. Organize a gratitude themed giveaway
Giveaways are a good way to show your customers just how much you appreciate them. Because Thanksgiving is all about gratitude, encourage your customers to share what they're thankful for on social media with a hashtag relevant to your restaurant, or by commenting on a designated post. Come up with clear guidelines and a deadline, and promote it everywhere you can.
Whether it's a gift card or comped meal, customers will love the opportunity. Use your social media channels to promote the giveaway and let your customers know what they mean to you. Not only will your customers be happy with the reward, but you'll also benefit from the added promotion.
6. Host A Specialty Thanksgiving Brunch
Thanksgiving doesn't have to be exclusive to just the day of. For those who choose to celebrate the holiday at home with family, offering a weekend brunch special is a great way to give them an excuse to extend the event. By hosting a Thanksgiving themed brunch, you're given the opportunity to come up with unique and creative Thanksgiving inspired dishes that can be enjoyed by everyone.
Put a twist on the classic mimosa by offering cranberry or apple cider mimosas. The typical bloody mary can be amplified by the addition of a small skewered turkey sandwich. Thanksgiving dishes can be easily transformed into breakfast and lunch classics. A salad can be adorned with side dish highlights and the hollandaise in your eggs benedict can be swapped with gravy. There are many ways to feature a Thanksgiving themed brunch that your patrons will be talking about for years to come.
---

Megan Prevost is a content manager for MustHaveMenus. When she's not writing about restaurant marketing, she's hanging out with her four cats and binging the latest television shows. Her work has appeared in All Business, App Institute, Bar and Restaurant, Bar Business, Beer Connoisseur, BevSpot, BiziTracker, Business Opportunites, CLH News, CFE News, FanSided, Fearless Flyer, FSR, Ganjaprenuer, International Bowling Industry, Miss Details, Modern Restaurant Management, Mosaic Solutions, PMQ, QSR, RestoBiz, RestoHub, Site Social SEO, Small Business Currents, The Daily Fandom, Total Food Service, and Wisk.