In 2015, Americans spent nearly $23.5 billion in the bar, tavern and nightclub industry and the purchase of distilled spirits is responsible for 30.6 percent of that total. As the industry grows, bourbon continues to gain loyal followers all across the country. You can't walk into any bar without someone talking about the newest bourbon, and not just the spirit itself, but the overwhelming number of craft cocktails being created in bars across the country.
Bartenders are valuable assets to bar and restaurant owners because of the knowledge, creativity and expertise they bring to the job. Knowing which bourbons are the best, impressing your clientele, and increasing your value to your business can happen when you become an Executive Bourbon Steward.
Moonshine University, the epicenter of distilling education and home to the Stave & Thief Society, shares their Top 10 reasons to become an Executive Bourbon Steward: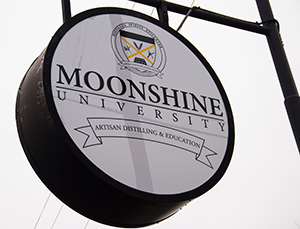 1) Pad That Paycheck. Becoming an Executive Bourbon Steward is perfect for anyone in the hospitality, bar or restaurant business. Not only will you be more knowledgeable about the beverages you are serving, but you increase your value to your company. Bartenders who are able to provide a memorable experience for their customers, develop return visitors and earn more tips that go right into their pocket.
2) Become a "Neat" Nerd. Bourbon straight out of the bottle and into your glass is known as being served "neat". Executive Bourbon Stewards are able to channel their inner nerd and learn the science behind the distilling and aging process. They will be able to tell you not just why, but how the molecules and chemicals work together to create the color and flavor of bourbon.
3) History is No Longer a Mystery. Maybe science was never your thing in school. Part of becoming an Executive Bourbon Steward includes learning about the history of whiskey in the United States and the evolution of bourbon. You will also be able to identify Kentucky's heritage brands and which distilleries produce them, giving you all the information you need to strike up an interesting conversation with a bar patron.
4) Bourbon So Good, You Can Sense It. Not every aspect of the program involves reading and tasting. One of the most challenging parts of becoming an Executive Bourbon Steward is the in-depth sensory analysis. You will explore the flavor spectrum of bourbon and by graduation, your palate will be able to pinpoint specific flavor profiles in every bourbon you taste.
5) Close the Deal. Finding the right thing to say to the cute guy or girl at your favorite watering hole takes confidence (and perhaps a bit of liquid courage). After becoming an Executive Bourbon Steward, you will have all the tools you will need to strike up a conversation with someone you've had your eye on. Simply offer to buy them a flight of three different bourbons you used to complete your training and share what you know about each one. You were trained for this moment!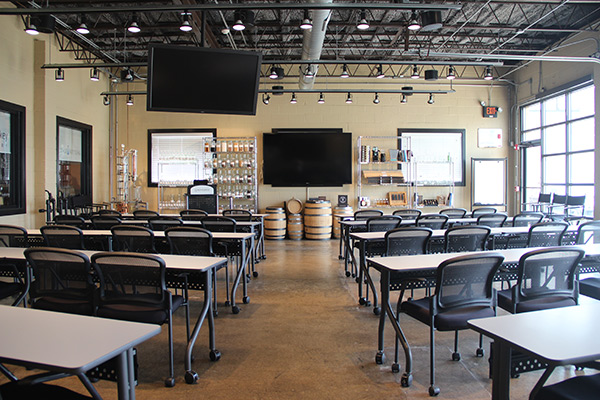 6) Be the Life of the Party. The fun isn't limited to the workplace. Take game night to a whole new level and host a tasting for a number of your friends. To make it even more exciting and to challenge your friends' senses, host a blind tasting with some of your favorite bourbons and see if they can guess what spirits you chose and explain the differences in each.
7) Drinks Are on That Guy. Upon becoming an Executive Bourbon Steward, graduates are given a special coin to commemorate their accomplishment. This is one coin you don't want to drop into your savings jar. If you run into another Executive Bourbon Steward at a bar or restaurant and you ask to see their coin, but they don't have it…tradition dictates that they owe you a beverage of your choice. So, don't get caught without your coin.
8) Be In Your Element, Even Off the Clock. There's just something about enjoying an adult beverage with friends after a long day of work. Once you are an Executive Bourbon Steward, you will be able to impress your buddies by speaking confidently and accurately in conversation about the spirits you are enjoying.
9) Become the Gift Whisperer. A bottle of bourbon makes a fantastic gift for any occasion, but with so many options, it can be overwhelming for the average consumer. As an Executive Bourbon Steward, you will be the go-to person to pick the perfect bourbon. You will be able to take information such as preferred taste and price range and pick out a unique bourbon that will make the perfect gift.
10) Train With the Best. The Stave & Thief Society Bourbon Certification Program is the official education program for the Kentucky Distiller's Association. The organization and its 33 members turn to Moonshine University to train their employees to uphold bourbon's unique and distinguished culture by preparing them to deliver an authentic bourbon experience. You will be training along side the best in the industry.
About the Stave & Thief Society - The team at Moonshine University designed the Stave & Thief Society Program. Founded in 2012, Moonshine U is an artisan distillery and education center purpose-build to support the distilling and spirits industry through hands-on training and education. Our faculty consists of over 50 industry experts, from the master distillers of the world's most successful brands to the owners and operators of the leading craft distilleries. Several of our faculty members, along with management representatives from the hospitality industry, served as our advisory panel to help develop this training program.