Shari's Raises Over $154,000 for the Boys & Girls Clubs with Multiple Summer Events
publication date:
Nov 9, 2015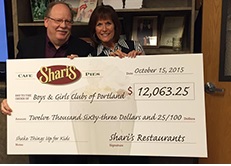 Shari's Café & Pies presented the Boys & Girls Clubs of Greater Portland/Vancouver a check for over $12,000 for a summer-long fundraising effort in the area.
In its "Shake Things Up" promotion, Shari's donated a portion of the proceeds for every Pie Shake sold to the Boys & Girls Clubs. Shari's Pie Shake is its one-of-a-kind Shake with a slice of Pie blended together with Hand-Scooped Ice Cream.
This promotion alone, with the 20th annual "Grip It & Rip It" charity golf scramble held in June, raised a total of over $154,000 during the summer for the Boys & Girls Clubs.
"The Boys & Girls Clubs do life-changing work with children in our Oregon communities, and Shari's is proud of the partnership we've made over the past 20 years," said Bruce MacDiarmid, CEO of Shari's Management Corporation. "As a locally headquartered Oregon Company, we are thrilled to raise this amount of money, thanks to the generous support of our vendor partners and participants."
The Boys & Girls Clubs of Portland CEO, Erin Hubert claimed this year's golf scramble was a huge success. "Shari's is an outstanding partner," Hubert stated. "The generous fundraisers and donations will be used to sustain our youth guidance and development programs as well as expand our buildings and our staff."
Over the past 20 years of its involvement with the Boys & Girls Clubs, Shari's has raised nearly $3 Million for the charity.
Shari's is the largest full-service chain based in the Pacific Northwest. Founded in 1978 and operated by Shari's Management Corporation of Beaverton, Oregon, Shari's Restaurants are designed to provide high quality, reasonably-priced meals 24 -hours a day in a comfortable surrounding. Shari's menu features a full selection of breakfasts, salads, sandwiches, hamburgers, dinner entrees, desserts and a large selection of specialty pies. With over 4,000 employees, the chain currently has 96 locations throughout Oregon, Washington, California, Idaho, Nebraska and Wyoming.