Sergio's Restaurant Catering Noche Buena for Marine's Family
publication date:
Dec 22, 2016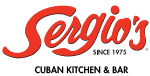 U.S. Marine Sergeant Ruben Abio is home for his first Christmas in five years. To honor his service, Sergio's Restaurant founder Blanca Cabrera is treating Abio and his family to a Noche Buena feast on Saturday.
"I first met Ruben at a National Restaurant Association event in May which honored active military personnel," Cabrera said. "We were taking a photo together at the event, when I discovered he was from Hialeah (Miami, FL)."
Abio was born in Cuba and moved to Hialeah in 2004. He entered the Marines straight out of High School, and is now 24 years old. He is still an active Marine, and an excellent chef.
"When I found out he hasn't been home for Christmas with his family in five years, it touched my heart and I decided to make this Christmas special," Cabrera said. "I'm so glad I can be a part of Ruben's family's Noche Buena. I love being part of the NRA and everything they do behind the scenes to bring young people work in our industry."
Cabrera became the first Hispanic woman on the National Restaurant Association (NRA) board last year. The NRA's support of the military has grown for decades due to their partnership with the Hennessy Trophy Award Program which recognizes food service excellence within the Armed Forces.
CEO of Sergio's Restaurant, Carlos Gazitua is honored to cater Noche Buena for Ruben's family.
"When Blanca told me about this young man, I knew we had to honor him somehow," Gazitua said. "His service to our country, his passion for food, and our similar journey moving from Cuba to South Florida has greatly touched me."
Abio's family is in for a treat – they're getting a "Cuban Christmas"; a whole pig roasted to perfection, congris, yucca, tossed salad, turrones for dessert, and champagne to toast Abio's first Christmas home in five years.
To learn more about the NRA's support for the military, visit their military foundation website here.
ABOUT SERGIO'S RESTAURANT
Sergio's Restaurants' freshest ingredients, homemade recipes and authentic cuisine make us America's first Cuban restaurant franchise. The Miami-based restaurant chain has pleased South Florida palates for 40 years under three generations of family leadership and began offering truly unique franchise concepts in 2014 with an eye toward national expansion.