Renzell Releases 2018 Ratings Preview
publication date:
May 31, 2017
|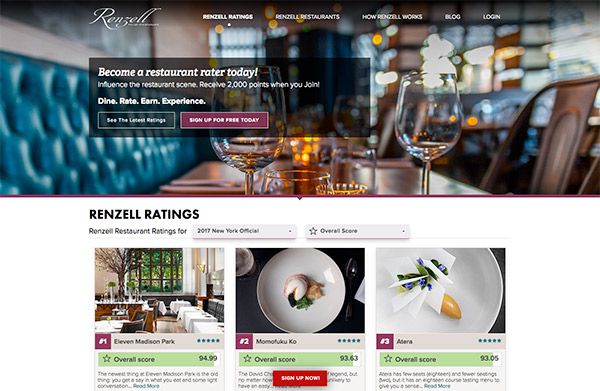 Renzell, the fast-growing national restaurant rating system, released an early preview of their highly anticipated 2018 ratings for more than 600 restaurants in eleven cities throughout the United States.
Renzell has profoundly disrupted the restaurant ratings industry by offering an unimpeachable data-driven model for rating high-end restaurants.
Renzell has released this special Ratings Preview to provide both diners and restaurants insight into how restaurants are faring, as Renzell builds towards its annual Official Ratings Release in September. The ratings assess the experience of dining out through eight categories: Cocktails, Design, Hospitality, Food, Service, Value, Vibe, And Wine/Sake/Beer. The Renzell Ratings, which provide overall and categorical scores, are an essential guide to curating ideal dining decisions.
"Previews such as this are exciting because it gives our restaurants a chance to see how they're doing and our members a valuable resource for dictating where they should dine out," says Bo Peabody, founder of Renzell. "We analyze data over an entire year and giving insight into how restaurants are faring over time is more meaningful and transparent than doling out an annual rating without context."
View the 2018 Ratings Preview here.
BACKGROUND
Renzell is currently rating restaurants in Atlanta, Boston, Chicago, Denver, Dallas, Los Angeles, New York City, Philadelphia, San Francisco, Seattle, and Washington D.C., with more cities slated for their Renzell debut later this year.
Renzell is dedicated to changing the way restaurants are rated—upending the status quo of subjective review and rating systems—by using a curated group of regular patrons of each city's restaurants, a comprehensive survey, and a proprietary algorithm to create an accurate assessment of each restaurant.
THE RATINGS
Official ratings are announced each September, with twice-annual preview scores released in January and May. Renzell Restaurants receive overall scores, as well as eight category scores, and are compared to the other restaurants in their respective markets.
"Renzell exists to fulfill a simple promise: to provide accurate, unimpeachable ratings. We want to provide a clear picture of what our own experience will be like if we visit that restaurant. No ratings or review system accomplishes that task," says Bo Peabody. "Renzell's methodology eliminates the bias that plagues every other rating system out there today."
Renzell's ratings are free of the subjectivity, biases, and inaccuracies that plague other systems.
WHO ARE THE RATERS?
Renzell currently has more than 12,000 members nationwide, all of whom are regular patrons and connoisseurs at high-end restaurants. Renzell provides a unique opportunity for impassioned foodies and inspired diners. There is no cost to become a member. Renzell invites its members to fill out a comprehensive survey about their experiences at Renzell Restaurants, which examines every element of their dining experience.
In addition to shaping the dining landscape, Renzell Members accrue points as they dine and gain access exclusive benefits, products, and experiences in and around Renzell Restaurants.
RENZELL RESTAURANTS
One of the most significant factors setting Renzell apart from other rating systems is its competitive list of Renzell Restaurants. This group of more than 600 establishments (new venues will be added every year) has already been highly scrutinized and vetted in advance of being surveyed by Renzell Members. Restaurants are graded on thirty-two specific criteria before being considered for the Renzell list.
The collected data, totaling millions of analytical data points, is weighted against member preferences to ensure the most accurate ratings. Renzell's data collection process is independently validated by KPMG. In an effort to be transparent with the restaurants and consumers, Renzell makes its survey, methodology and data available to the restaurants it covers.
"Renzell's mission is to bring modern data methods to the restaurant ratings ecosystem, which will help restaurants and their guests, and will better allow us to celebrate and enjoy these amazing institutions," says Peabody.