Porcini Launches Advanced Restaurant Management Software
publication date:
Aug 31, 2017

Porcini is a new cloud-based restaurant management platform designed to make inventory costing, menu development and order tracking easy and affordable for busy restaurateurs, chefs and bartenders.
Designed by developer turned restaurateur Jacob DeHart it's built to be faster, more intuitive, and cheaper than the competition because DeHart designed it to suit the needs of his working restaurant.
DeHart, an entrepreneur and engineer with more than 15 years of tech industry experience, was inspired to create Porcini after opening his own restaurant, The Heritage, in Forest Park, Illinois. He and the restaurant's chef tested several restaurant costing software packages and found them difficult to use or lagging behind current technological advances. So he called on his experience as a software developer to build one himself.
"So many restaurant management systems come with frustrating interfaces and hardware that needs servicing," DeHart said. "Our goal with Porcini is to make it as easy as possible to manage the back of the house and reduce waste. This is a user-friendly product that's quick and intuitive to learn, and it's been key to the success of our restaurant. Now we want to help other restaurants and hospitality companies maximize their own chances for success."
Porcini's suite of restaurant management tools costs $79 per month for a single restaurant or $199 per month for up to five locations, with a discount for annual subscriptions. The platform instantly performs the following key functions:
Inventory Costing: Catalog and track inventory and costs, organize vendors, and manage purchase orders and deliveries without having to juggle spreadsheets. Customizable alerts help prevent low stock and missed ordering deadlines.
Recipe Book: Create and maintain recipes and instructions, all linked to inventory to show real-time food costs and profit margins.
Menu Development: Quickly generate great-looking menus that stay current with the kitchen. Version control keeps track of changes, and flexible Markdown formatting makes edits easy.
Reporting: Easily produce profit and loss reports, inventory lists, category totals, ingredient pricing history and more.
Notifications: The software also includes the ability to automatically send push notifications to alert management or staff to menu changes, ordering deadlines and other important information.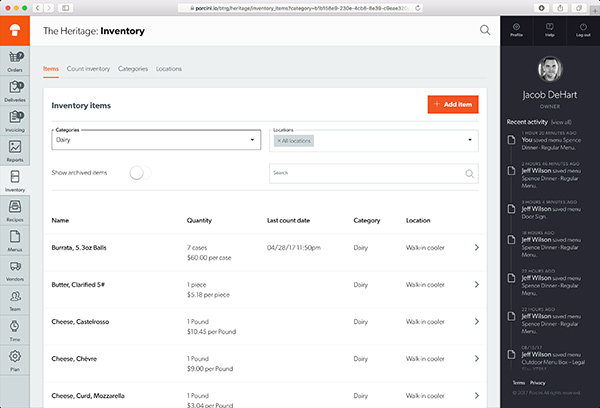 "One of the most important factors in a restaurant's success is its ability to stay on top of inventory costs," said DeHart. "Porcini provides tools that allow a chef or manager to quickly and easily work out food costs and margins as never before for each item on the menu -- and make changes on the fly, while letting the app do the math."
Because Porcini lives in the cloud, there's no extra equipment to contend with -- and its features are constantly updated and available anywhere they're needed, whether that's the kitchen, the office or on the go via the Porcini mobile app.
Porcini is available now at https://porcini.io.