Energetic Friday night crowds and a line around the block every Saturday — that's the stuff of which bar owners' dreams are made. Tuesday nights so quiet you can hear the bottom end drop out of your budget are somewhat less ideal. Check out these five ways you can boost your middle-of-the-week bar business and breathe life back into your profit margins.
1. Host a Bartender Battle
People in the hospitality industry love to support their colleagues, and customers get hyped when they're lucky enough to sneak a peek behind the scenes or get up close and personal with their favorite service pros. For those reasons and more, hosting a battle of the bartenders is a phenomenal way to pack the house and make a ton of money.
For this plan to work, you need the following:
The participation of several popular bartenders who can come up with a signature cocktail
A big social media campaign — even better if your contestants have many followers
Some kind of promotion or added entertainment to amp of the fun — such as half-off apps when casting your vote for the best signature drink, or a local band entertaining the crowd while guests cheer on the guys and girls behind the bar
This type of event is perfect for a midweek push, since it's easier for hospitality pros to score a night off on a Wednesday than a Saturday.
2. Test Your Clientele with a Trivia Night
Pub trivia is massively popular, and for good reason. Crowds love the chance to show off what they know, and owner/operators attract new and existing customers who sit for long periods, padding their check with round after round of beer and chicken wings. Offer extra value by linking key trivia wins and bar-related prizes. Maybe the best team name gets a round of shots or whoever wins the music round gets to control the jukebox for an hour.
Most bars with trivia nights set up coinciding promotions that can make it difficult to know if you're getting enough bang for your buck (some national trivia companies charge a lot for access to questions and quiz materials). To be sure you're coming out ahead, use a top-of-the-line POS system to track sales. See if the additional traffic and higher check averages are making the initial investment worth your while.
3. Make Thursdays Theme Night
Turn your slowest day into a celebration of all things throwback. Encourage customers to don their best legwarmers and side ponytails for '80s night; put on a never-ending rotation of boy bands and "Saved by the Bell" episodes for '90s night; or send patrons to the '50s with poodle skirts and malted milkshake shots.
It's OK to ditch the decade themes and opt for something a bit funkier, too:
Nerd's Night Out: No, people don't have to BYOPP (bring your own pocket protector), but they can stop by for board game tournaments, cosplay mini-events, steampunk pop-ups, molecular cocktail demonstrations and more.
Bourbon Street Bash: Make like you're in NOLA with a crawfish boil. Serve on long communal tables with pitchers of hurricanes and Abita beer available from the bar.
Cocktail-Inspired Spa Party: Partner with a local spa or salon and offer guests quickie facials and manicures inspired by popular drinks. Cross-promotional endeavors can be lucrative, and the fun factor is immense.
4. Unite Arts, Crafts and Craft Beer
Paint and wine nights are everywhere these days. Why not capitalize on the craze with IPA and upcycled bracelet night or Cosmopolitans and decoupage coasters? Whether you bring in a gardening expert to show patrons how to pot tiny succulents or get fancy with reclaimed wood and string art, you'll have a captive audience willing to pay an entry fee (typically split between you and your guest artist). Meet a drink minimum, and snacks before and after are almost a given.
5. Help Business Owners Network
What happens when speed dating and networking nights combine forces? You get a round robin of professional meetups. Cut through those awkward "who do I talk to?" moments and get people into engaging conversations. This fresh approach to networking introduces your bar to tons of people, opening the door for countless future business lunches and celebratory dinners when the people who matched up make a killer deal.
Weekdays can be rough on your bottom line and on staff morale. Give everybody a boost with promotional opportunities that put your bar back in the spotlight and create communitywide buzz that may well pay off for months to come.
---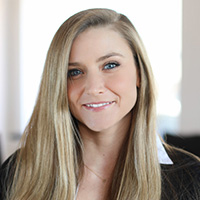 Dana Krook is Content Marketing Specialist at TouchBistro, a POS solutions provider for restaurants. She focuses on sharing tips for and stories of restaurateurs turning their passion into success.